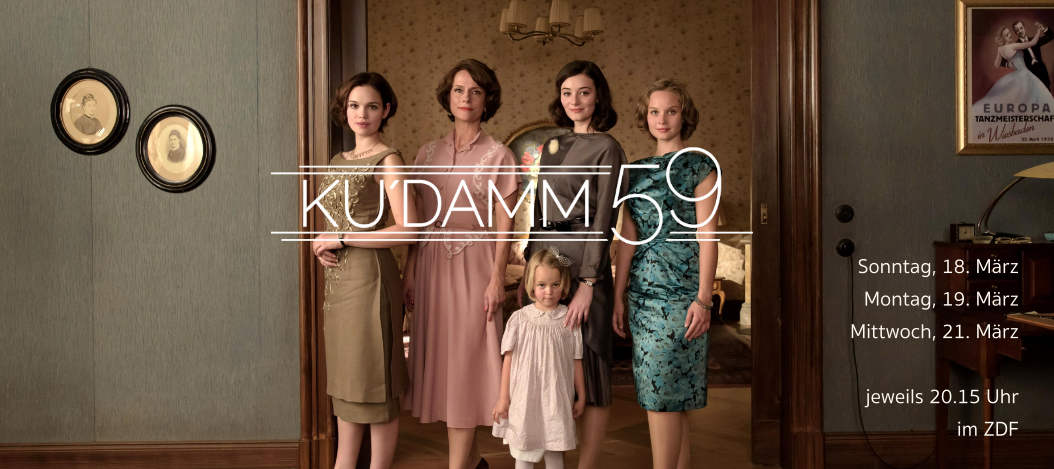 The work on Ku'Damm 59 is done. Looking forward to seeing and hearing everything put together on TV soon!
Ku'Damm 59
the crew of the film

writing: Annette Hess
director: Sven Bohse
camera: Michael Schreitel
Casting: Nina Haun
Editing: Ronny Mattas
production design: Axel Nocker
set decoration: Nancy Vogel
costume: Maria Schicker
product management: Stephan Gehrke-Losinski
producer: Benjamin Benedict
commisioning editor: Heike Hempel
executive producer: Marc Lepetit
commissioning editor: Bastian Wagner
music for film 1: Maurus Ronner
music for film 2: Maurus Ronner; additional music: Anna Kühlein
music for film 3: Maurus Ronner, Christian Biegai, Anna Kühlein

production company: UFA FICTION
_________
For more information about the mini-series click here.
airing dates & infos

When?
Episode 1 - 18th of March 2018 at 8.15pm
Episode 2 - 19th of March 2018 at 8.15pm
Episode 3 - 21st of March 2018 at 8.15pm
TV-Station?
ZDF
Ku'Damm 56
find it in the media-library of ZDF here.

It's also online at amazon prime and netflix.